Services we provide:
Commercial flooring
Floor laying
Floor fitting
Floor repairs
Floor restoration
Laminate floor fitters
Rubber flooring
Safety flooring
Vinyl flooring
Floor levelling
Wooden flooring
Engineered flooring
Flooring Contractor in Northwich
We are a small family business which has been established for over 14 years in the middle of Cheshire. We take pride in all of our commitments and depend on repeat business and recommendation from very pleased customers. We like what we do, and this enthusiasm is demonstrated in the quality and workmanship our company offers.
Don't just take our word for it, look over what our clients are saying about our services on our customer feedback page.
We specialise in Luxury vinyl tiles and all sub-floor preparations from Ply-boarding and fibreglass reinforced levelling compounds to Damp proof membranes, in the end if the preparation isn't right, then the final result usually won't be.
Feel free to contact us regarding any flooring requirement you might need, or fill in our contact form and we'll get back to you! All the photos in our galleries, are genuine clients floor's fitted by our personnel, we DONT use model images
Call Today For a Free Quotation or Advice 07801 929484
Engineered Flooring Northwich
Engineered wood flooring is a great solution for those more challenging flooring demands. The biggest reason for picking Engineered flooring is the perfect compatibility with under floor heating enabling simple and seamless warmth all over the house, eliminating the need for radiators and eliminating those frosty areas in your rooms.
Because of its rigidity and capability to resist the climate, engineered flooring is good in areas where solid wood isn't really a viable alternative. This is due to the resilient center and underside levels which are made from poplar wood or birch. Places well suited for engineered include conservatories which will take in huge amounts of heat require flooring which will not expand, or even cellars and garages . where wood is installed on the top of concrete.
Solid Wooden Flooring Northwich
Our wide range of hardwood consists of oak, maple, walnut, ash, cherry, merbau & jatoba. We stock unfinished and pre-finished; solid & engineered boards, and new and reclaimed wood. With each and every shade and every grade of wood floor, and a selection of widths, we know we are able to provide you with the right product to match your size of room, your style and design scheme, and your budget!
Our free pre-installation survey and advice makes sure that the right selections are made for product choices and application method. Our low business overheads allow us to to price our products aproximately 20% cheaper than our shop based rivals. We have a consistent supply of high quality products from the largest and most respected wood flooring manufacturers and importers to the UK.
Laminate Flooring Northwich
A laminate floor. We've made great strides from the 1980's haven't we? Today, laminate flooring can be as beautiful as solid or engineered wood flooring, but usually much less expensive, allowing you to make your budget stretch further.
A wide variety of looks are available these days: Wide planks, small planks, modern (like the Quick Step Light Grey ), classic (like the Natural Varnished Oak), rustic (Smoked Oak) – there really is something for everybody. And with the modern fitting procedures, it is guaranteed to go down and stay down.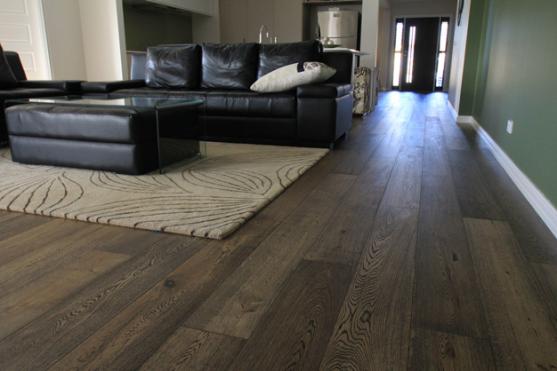 Vinyl Flooring Northwich
Here at R W Joinery we also offer Vinyl Flooring at great prices, we also have a large collection available to choose from.
Vinyl is a low-maintenance and an incredibly practical solution for virtually any room due to its thickness and texture to suit any purpose. Thanks to printing technology, vinyl can emulate hard materials at just a fraction of the price. A flexible flooring, durable and simple to clean, efficient and eye-catching, vinyl is great for bathrooms and kitchens because of their water resistant nature. Vinyl flooring is warm, noiseless underfoot and resist almost all household stains.
Vinyl floorings have come quite a distance recently and are now used throughout the home to beautiful effect, vinyl flooring has gained a reputation for being a low maintenance and cost-effective floor covering of choice.